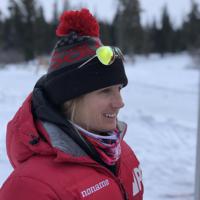 Emma Garrard
HEAD Kickers & Gliders Coach, DEVO COACH & PROGRAM MANAGER
IEmma has been a coach for PCSS Nordic Coach since 2013 and Program Manager since 2015. She was also a head coach for TUNA and a ski instructor at White Pine Nordic. Emma learned to ski in Alaska and went on to compete in both running and skiing in college at the University of Nevada. Emma was also a professional triathlete for nine years.
Hanz Johansson
DEVO COACH
Started skiing at age 4 in Gothenburg, Sweden when my parents put touring skis under my feet. Since then I've been a recreational skier who enjoys cross country skiing as well as alpine and backcountry skiing. When not coaching can be found... in my backyard (the Uintas) exploring on skis, snowshoes, or foot!
Caitlin Riviere
KICKERS & GLIDERS COACH
I grew up racing in New Hampshire, went on to a PG year at Green Mountain Valley School and then was a member of the University of New Hampshire Ski Team. I decided to return to the sport when a coaching opportunity came up last season with Kickers & Gliders and so excited to return this season to assist with the Devo and Devo Plus groups.
Arthur Myshrall
DEVO/DEVO PLUS COACH
Starting my 5th year of coaching with the PCSS kids. A level 200 coaching licence and several years of coaching both adults and youth has given me a great opportunity to learn and grow. When not coaching I can be found on various types of skis in the winter months and mostly on my mt bike in the summer months. Kayaking some of the local flat water in search of wild life and a beautiful sunset can also keep me busy.
Catherine Best
CROSS COUNTRY ASSISTANT COACH
I have skied with the Park City Nordic Club for a couple of years before I left to focus my attention on mountain biking. This is my 5th year racing mountain bikes, and my first year racing varsity. I am also an avid reader.
Evelyn Dong
Kickers and gliders coach
I have never won sharks and minnows but that doesn't stop me from trying.
Drew Palmer-Leger
Devo+ Coach
My Name is Drew Palmer-Leger. This is my first year coaching for PCSS. I started starting nordic ski racing when I was 8 with park city nordic team, I then moved to TUNA ski team, where Emma was my coach.I then moved back to to Park City to train with Gordo while I was in high school. After high school I took a gap year to train with the Sun Valley ski team. Since then I have started college and transistioned my racing from skiing to mountain biking. I am currently racing enduro competing in the Enduro World Series.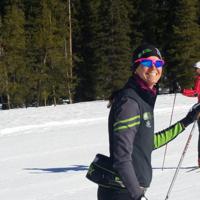 Liz Guiney
Devo+ Lead Coach
Liz grew up in Park City, and had the privilege of racing for Park City Ski and Snowboard in middle school and high school (then called NSF and Park City Nordic). She went on to race Div. I for University of New Hampshire, represented the US at U23 World Championships, and skied at the elite level for the Craftsbury Green Racing Project. After spending 7 years racing for Craftsbury and getting her feet wet on the World Cup scene, she hung up her skis in 2020 and moved back to Park City. She is thrilled to be back to her roots, coaching with the club that gave her a start in nordic skiing.