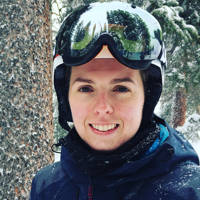 Lauren Hoffman
U12/U14 PART TIME HEAD COACH
Lauren loves to share her passion for snow. She grew up in Park City, was a member of the Park City Ski Team, and went on to live and race in Europe. When she's not on the hill, exploring singletrack, or jumping horses, Lauren practices land-use law. She and her husband, Maverick, adventure daily, laugh constantly, and can often be found admiring latte art around town.
Nicholas Schiltz
Assistant U12/14 Part Time Coach
I grew up ski racing in Wisconsin. In college I raced USCSA for Colorado Mtn. College, in Steamboat Springs, Colorado. I have been fortunate to work for Park City Ski and Snowboard, where I share my passion for the sport with others.
Mary Grace Arndt
U12/U14 PT Assistant Coach
Born and raised in Minnetonka, Minnesota, Mary Grace grew up ski racing at the Buck Hill Ski Racing Club. After graduating from the University of Denver she moved to Park City and then to Squaw Valley were she started to coach ski racing. Now back in Park City, this is Mary Grace's first year coaching with the Park City Ski Team.
Jack Dalton
Assistant U12 Coach
Born and raised in Park City. I am a former Park City Ski Team (PCSS) athlete and current Junior at the University of Utah studying Business Marketing